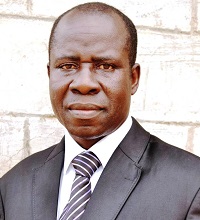 AWOBIFA, Marcus Oladepo
Director, Advancement Office
Room 112, Admin Building, Main Campus

E-mail:

Mr. Awobifa, Marcus Oladepo received his B.PA degree from Ambrose Alli University, Ekpoma in 2007 and Master in Public Administration from Ladoke Akintola University of Technology in 2012.
He started his career with Osun State Government in 1982 and rose to the rank of Chief Confidential Secretary in 2004. He transferred his service to Osun State University on 1st January, 2008. In October 2008, the Governing Council approved his conversion to the rank of Senior Assistant Registrar and was later promoted to the rank of Principal Assistant Registrar in 2013.
Mr. Awobifa is a member of Association of Nigerian Universities Professional Administrators (ANUPA), Shorthand Writers Association of Nigeria (SWAN) and the Institute of Chartered Secretaries and Reports (ICSR), Osun State Branch. He has served in many Committees both at the College and the University levels. He has also worked in the Corporate Affairs Unit and the College Office where he served with zeal, determination and diligence. He is currently the Director, the Advancement Office.
Within the last six years, he has received three commendation letters. In recognition of his excellence performance, he was also given Osun State Merit Award in 1998. He has attended many local and international Seminars and Workshops.
The Advancement Office is established for the following objectives:
• stimulating the interest of the public in the affairs of the University;
• for the day-to-day running of financial self-sustainability;
• for projecting positive image brand,
• for maintaining and sustaining a dynamic Alumni database,
• for effective tracking and cultivation of mutually beneficial relationships with the alumni and other relevant stakeholders,
• for facilitating public, private partnerships for efficient management of municipal facilities,
• for supporting the attainment of excellence in teaching, research and community service,
• for soliciting and receiving gifts, legacies, endowments and donations on behalf of the University;
• for identifying and cultivating potential corporate sponsors of different projects in the University and mobilising local communities for the development of campuses located in their areas;
• ensuring proper stewardship to donors, transparency and accountability with regard to funds raised.