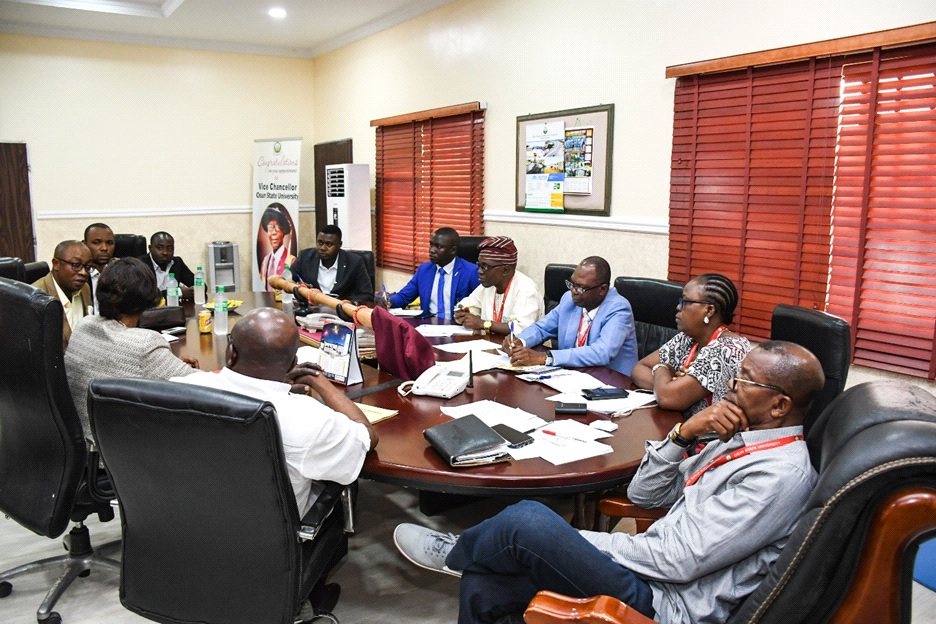 In keeping to the promise of building a mutual relationship with all stakeholders in the educational sector, the University Management under the able leadership of the Vice-chancellor, Professor Labode Popola on Thursday, August 29, 2019 received the new controller of the branch of the West African Examination Council (WAEC) in Osun State.
The Vice-Chancellor welcomed the new branch controller to the state of the living spring and congratulates him for the new elevation. He introduced the institution to the controller and his entourage as an institution that is set up as a conventional, multi-campus University charged with the production of high quality, well–rounded, globally competitive and entrepreneurial graduates who are catalysts for rapid and sustainable socio-economic development of Osun State, Nigeria and the world.
The branch controller, Dr. Moshood Busari, while responding to the Vice Chancellor's remark said, "It is our standard at WAEC to visit and introduce new management to the institutions in the state as they are the major stakeholders that are contributing to academic excellence. He further stated that there are series of facilities that WAEC has that UNIOSUN can tap into to achieve their set goals. Such facilities include the Result Checker that is now online, Omnibus Result CD, Online Verification of Candidates among others.
The registrar, Mr. Gafar Shittu also join the Vice-chancellor in welcoming the new controller to the state and further advised the body to always protect the integrity of all WAEC's processes. "As you may be aware that there are lots of people that are working round the clock online to always sabotage new initiatives, and to prevent the case of online hacking of the process of building academic excellence, WAEC should work more on the new processes of checking and releasing students' results online."
While rounding up, the Vice-chancellor appreciates the new management of WAEC in Osun for the visit and promise them that the Osun State University is ready to work with the new management.