The Visitor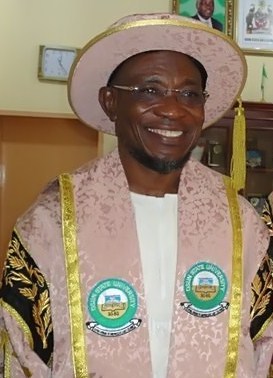 Engr. Rauf Aregbesola had his primary and secondary education in Ondo State, and later attended the Polytechnic, Ibadan, where he studied Mechanical Engineering and graduated in 1980.
An associate member of the American Institute of Industrial Engineers (AIIE), member of the Nigerian Institute of Management (NIM) and a Fellow of Nigerian Society of Engineers (NSE), Nigerian Association of Technological Engineers (NATE) and Certified Marketing Communications Institute of Nigeria (CMCIN), Rauf Aregbesola has a wealth of experience garnered through dint of hard work in both the public and private sectors such as the Nigerian External Telecommunications now renamed Nigerian Telecommunications Ltd. and Lagos Airport Hotel before establishing his own Engineering Services Company, Aurora Nigeria Limited, in 1986. The company had since its establishment handled numerous major projects for both government and private organizations in most States of the federation.
Politically, he has been no less active and forthright. His involvement dates back to his undergraduate days when he was speaker of the Students' Parliament (1977/78) at the Polytechnic, Ibadan and the President of the Black Nationalist Movement (1978-1980). He was also an active supporter of other progressive students' movement nationwide, which earned him, for instance, the life membership of National Association of Technological Students. In June 1990, he became an elected delegate to the SDP Inaugural Local Government Area Congress. In July of the same year, he was also a delegate to its first National Convention in Abuja.
Engr. Aregbesola as a pro-democracy and human rights activist was a major participant in the demilitarization and pro-democracy struggles of the 1990s. He is equally active in community associations, especially in Alimosho, his base, where he remains the Secretary to the LGA Elders' Forum to date. Prior to his appointment as the Lagos State Commissioner for Works and Infrastructure (1999 till date) he was Director of the Bola Ahmed Tinubu Campaign Organization (BATCO), which engineered the electoral victory of Asiwaju Bola Ahmed Tinubu as the Governor of Lagos State in 1999. He performed similar feat using the platform of Independent Campaign Group (ICG) to ensure the re-election of Asiwaju for a second term in office.
Since his appointment and re-appointment, Engineer Aregbesola has continued to confound all with the strength of his commitment to selfless service. His diligence, sincerity and tirelessness in the administration of the vast Ministry of Works and Infrastructure as well as supervision of the Public Works Corporation and State Electricity Board has been acknowledged as being responsible for the outstanding success that has been recorded by the present Lagos State administration especially in road rehabilitation/maintenance and street lighting.
To date, Engr. Aregbesola has successfully rehabilitated about 841 roads, through the Public Works Corporation's Operation Tax Payers Money in Action and over 600 roads through the Ministry of Works and Infrastructure's Operation Patch it Well. These two agencies working round the year through road maintenance gangs work by day and night.
In addition the Ministry has awarded about 445 (As at 1st April 2005) roads projects to facilitate socio-economic activities in the State.
Other noble and people-centered programmes of the Ministry include the all year round drainage clearing gang (Drain Ducks), which has cleared over 1250 KM of drains all around Lagos and the establishment of round the year streetlight maintenance programme.
Within this same period, the Ministry under his able leadership has also renovated 665 staff quarters and furnished over 300. An exercise that no government has embarked on over the last 20 years.
The Ministry has been able to supplement the National Electric Power Authority's power supply with an additional 270 Megawatts through the Independent Power Project. This was the hallmark of the first term of Asiwaju Bola Ahmed Tinubu's Administration in Lagos State. Discussions are still ongoing to bring in more private investors into power sector.
Several other novel achievements and innovations due to his visionary qualities and enterprise include the redefinition and application of new aesthetic standards to ministry blocks and offices as corporate workplaces; vision and mission definition, annual staff retreats & modern manpower capacity building trainings; introduction of facility management practices; pioneering achievements in PR (ministry journal) and IT (website) operation; Pioneering Private/Public Sector Partnership Ventures; Award-winning best practices projects; etc.
The strings of awards that have trailed the life of the Honourable Commissioner are eloquent testimonies of all that has been said about him. Earlier in his working life, Engr. Rauf Aregbesola was decorated with the War Against Indiscipline (WAI) Badge of Excellence at the Kujama Satellite Earth Station of the Nigerian Telecommunications Ltd.
For more information visit the Osun State Government Official Website