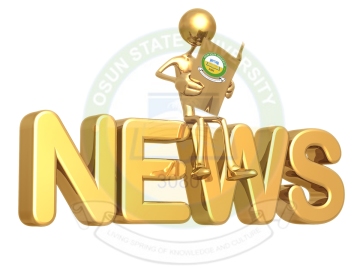 The State of Osun House of Assembly has recently passed a vote of confidence on the present Governing Council and Management of Osun State University.
The Statehouse Committee on Education at a visit to the University Management on Thursday, 9th of July as part of its oversight functions, was received and welcomed by the principal officers of the Institution led by the Vice-Chancellor, Professor Labode Popoola at the University's main campus.

In the welcome address of the Vice-Chancellor, Professor Labode Popoola briefly took the committee through the state of the University, showcasing recent developmental strides with evidences distributed across all six campuses of the University. Professor Popoola highlighted some notable achievements of his administration in the last three and half years as: maximization of the limited resources to achieve more; sourcing for funds and construction of the access road to the University; construction of the multipurpose complexes; international field experience for our students; full accreditation of programmes by NUC and other professional bodies; introduction of car and housing loan for staff; introduction of staff health funds; rebate in school fees of staff children; the construction of UNIOSUN Teaching Hospital by the Chancellor, Dr. Mrs. Folorunsho Alakija among others.

"At Osun State University, we are driven by our vision and desire to be a center of excellence providing high-quality teaching and learning experience, which will engender the production of entrepreneurial graduates capable of impacting their environment while being globally competitive. As an institution, we have committed ourselves to create a unique institution committed to the pursuit of academic innovation, skill-based training, and a tradition of excellence in teaching, research, and community service," Professor Popoola added.
The chairman of the House Committee on Education Hon. Babatunde Ibirogba who responded on behalf of the Committee said that the Committee was very impressed and proud of the proactivity of the Vice-chancellor and his team.

"The committee has seen a lot of developmental projects in the nooks and crannies of the university campus and we are proud of the new innovation on ground that students can benefit from. The House Committee on Education hereby give kudos to the Management of this institution on all the developmental projects that would benefit students and mankind.
We urge the University Management to mobilize all contractors handling various projects in the University to make themselves available and should remain focused on delivering excellent jobs.

We acknowledge the efforts of all the friends and contributors to the University within and outside the state most especially the University Chancellor, Mrs. Folorunsho Alakija who we refer to as a blessing to Osun State and its University," Honourable Ibirogba added.