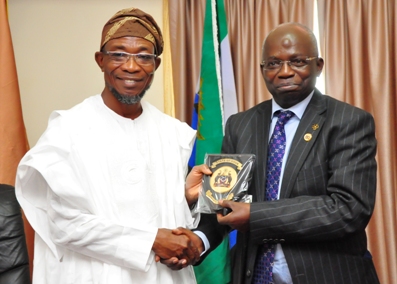 The Governor of the State of Osun and Visitor to Osun State University, Ogbeni Rauf Adesoji Aregbesola has inaugurated the Council of the University on Wednesday, 27 November, 2012.
At the ceremony, the Governor expressed his worry about the poor education being received at all levels.
He said: 'If a stop is not put to a poor and technical education being received, I am afraid if we will not get to a place where animals will be better than us in the next 30 or 50 years'. 'I want a marked difference in philosophy, curriculum, societal relevance and funding for this University. There must be a paradigm shift. I want a University that will equip its graduates with specific skills'. The Chairman thanked the Governor, Ogbeni Rauf Adesoji Aregbesola, who deemed it fit and proper to call upon them to serve on the Governing Council of the University.
He, however, challenged Council members to brace up for the challenges ahead, saying: 'It is perhaps restating the obvious that service is a privilege that carries with it a lot of responsibility. The way we serve is bound to impact on others either for good or for ill. Therein lies the formidable challenge ahead of us both individually and collectively.'
He commended the Ag. Vice-Chancellor, Professor Ganiyu Olatunde, who not only met with him but also briefed him about major events in the University.