Dr. OYEYIPO Ibukun P.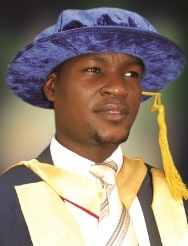 Dr. OYEYIPO Ibukun P.
Head of Department, Physiology
Email: ibukun.oyeyipo@uniosun.edu.ng
Dr. Oyeyipo is a Senior Lecturer, the pioneer full-time staff and current Head of Department of Physiology. He obtained his Ph.D from the University of Ibadan, Nigeria in 2014 and won a postdoctoral fellowship the same year at Stellenbosch University, South Africa. He was admitted as a fellow of the Institute of Basic Medical Sciences (UK) in 2015. Dr. Oyeyipo was on internship at the Centre for Reproduction Medicine and Andrology, University of Muenster, Germany in 2012 and holds other academic and professional qualifications, obtained from the Nigerian Institute of Management, Earth Institute at Columbia University and Johns Hopkins School of Public Health. He is an active member of several professional associations within and outside Nigeria and has won several research and academic grants. Dr Oyeyipo has attended and presented over 25 scientific papers in local and international conferences and has over 35 publications to his credit.
As an academic staff in the University, I am actively involved in teaching, invigilating, assessing and collating students' results. I am also involved in research from the stage of conceptualization of ideas, publication of findings and ensuring that studies translates into community development through enlightenment talks and counselling.
As Head of Department, I coordinate the day to day administrative and academic activities and oversees the conduct of both staff and students in the Department. I also organise all lectures and coordinate all examination as the chief examiner.
My research activities focus mainly on male reproductive toxicity. In the last decade, I have investigated the effects of some pharmacological agents such as antimalarial agent, oral contraceptives, antidepressant and additives alongside their mechanisms of action with implication for fertility/infertility in both in vivo and in vitro experimental models.
My studies established that Nicotine, Norgestrel, Quassin, Arthemeter and Amitriptyline inhibited sperm functions in animal and human studies. Inhibition of testicular steroidogenesis was the major focus of their actions. They also impacted negatively on male reproductive functions through hypothalamao-hypophyseal- gonadal axis. This could be a major factor among others, attributed for the decline in sperm quality and quantity and thus declined fertility potential in man over the last century.